Earthquake Insurance: Will You Be Covered When the Big One Hits?
Two major earthquakes and a series of aftershocks on July 4 and 5 had millions of Los Angeles residents on edge. They were the strongest quakes to hit Southern California in 20 years, with magnitudes measuring 6.4 and 7.1 at the epicenter in Ridgecrest. Surprisingly, there was little damage reported in the rural community of Ridgecrest, or 150-170 miles to the south in sprawling Los Angeles.1
The city breathed a collective sigh of relief, but the risks remain. Making matters worse, only 10% to 13% of California homeowners currently have earthquake insurance.2
California has experienced the most earthquake damage in recent history, but the U.S. Geological Survey (USGS) reports that 42 states are exposed to earthquake risks.3 Moreover, USGS research has concluded that growing seismic activity in some states is most likely related to oil and gas production.4
Damage from earthquakes is not covered by standard homeowners, renters, and business insurance policies, though separate coverage is often available.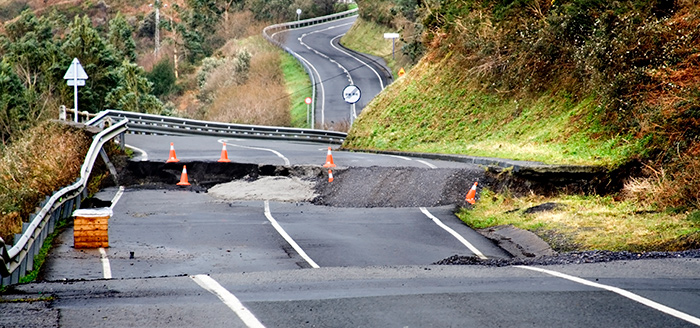 Catastrophic Coverage
Earthquake insurance helps provide financial protection from the sudden earth movement that can destroy buildings and their contents. It also covers debris removal and may pay for some extra living expenses while the covered home is being repaired or rebuilt.
Generally, earthquake policies are designed to help protect homeowners from suffering a total loss on their property. As a result, most policies carry a deductible ranging from 2% to 20% of the structure's replacement value. Policy rates and deductibles depend on the age and construction of the home and how likely it is for earthquakes to occur in the region, so higher-risk states often have higher minimum deductibles.
Supplemental policies are available through private insurers; in California they are also available through a state-run program. A private-public partnership called the California Earthquake Authority (CEA) now offers homeowners an earthquake policy with a choice of deductible ranging from 5% to 25%. The coverage limit is typically the insured value of the home as stated on the accompanying homeowners policy. The CEA policy contains exclusions and special limits of coverage. Of course, the entire policy should be read for what is and what is not covered.
Retrofitting an older home (strengthening the foundation with braces and bolts) often reduces the amount of damage caused by severe shaking, and it could also lower your insurance premiums.5
Man-Made Threat
Waste-water disposal related to fracking has been blamed for inducing earthquakes in places where they were once uncommon. The USGS now publishes an earthquake hazard map that includes both natural and human-induced quakes.
The states at highest risk of man-made earthquakes are Oklahoma and Kansas, but other states have also been affected. This puts an additional 3.5 million people in harm's way, and structures in these regions are not likely to have been built to meet seismic safety standards, making them especially vulnerable.6
Homeowners who live near oil and gas fields should look closely at earthquake endorsements to make sure they do not exclude seismic events caused by human activities.
Early-warning systems are already operating in some countries, including Japan and Mexico, and scientists are working on one for California. Even so, early detection can only provide a few seconds or minutes to prepare for the shaking.
You may want to discuss whether you have the appropriate supplemental insurance coverage with your own agent, based on your specific situation and the location of your property.